This story about Ari Notartomaso, Nicole Maines, Jasmin Savoy Brown, Devery Jacobs, Cheyenne Jackson, Nicco Annan and Sherry Cola originally appeared in the Drama Series issue of TheWrap's awards magazine.
In a time when anti-LGBTQ+ legislation is on a historic rise and discriminatory rhetoric is normalized by politicians and news media figures the world over, onscreen representation matters more than ever. In celebration of Pride month and in the lead-up to Emmys 2023, TheWrap saluted these seven performers who are fighting for LGBTQ+ equality through their work on the small screen.
One of the many delights of Paramount+'s "Grease: Rise of the Pink Ladies" is the breakout performance of Ari Notartomaso as Cynthia, the prequel series' "little butch" [their words]. Depicting a closeted teen lesbian's coming-of-age in the 1950s, Notartomaso, who identifies as nonbinary and uses they/them pronouns, said Cynthia is a role "that I never really thought was possible for me to play."
HITTING CLOSE TO HOME "Being able to play this character that is figuring out her own identity without labels has been exciting for me both because I know there are a lot of young, queer people who don't have access to these kinds of stories, but also for me as an actor exploring my own gender and sexuality in my 20s."
THE CAMERA LOVES THEM "When you are acting onstage, it feels that sometimes you have to act to the back of the theater. Whereas in TV, you're acting anywhere from the back of the theater to two inches in front of your face. There was a steep learning curve, but my musical theater training translated really well."
CYNTHIA'S COMING OUT "This season shows how coming out can be different in different contexts — that coming out to people sometimes can be celebratory, sometimes scary and sometimes exciting and bonding. I feel so thankful that we get to tell all of these stories in a way that's not in destruction or panic or trauma." 
"It is truly one of the best shows on television right now," Nicole Maines said of Showtime's "Yellowjackets," which she joined for Season 2 playing Lisa, a traumatized follower of Lottie (Simone Kessell). Maines, who is trans, was part of a historic court case in 2014 against her school district for denying her use of her preferred bathroom, and in 2018 became the first trans superhero on TV in "Supergirl."
LEAVING LISA UP TO INTERPRETATION "Lisa's journey is about mental health and about recovering from suicidality and finding yourself and learning to stand on your own two legs. There's been a lot of theorizing about, 'Oh, is Lisa trans?' because there's a trans actress playing her. And I kind of prefer it being left up to the viewer. I think that in any case, seeing a trans actor on screen, regardless of whether or not the role is trans, is so important.
Just existing as a trans person is not only political, but it is rebellious, and it is radical, and it is frankly a big middle finger to every lawmaker right now who's trying to tell trans people that we shouldn't get to."
PRIDE IS MORE IMPORTANT THAN EVER "It's especially important that we're all celebrating extra hard this year where we can because we're seeing states like Florida where Pride parades are being shut down because of legislation. They are restricting our ability to gather and celebrate and be ourselves in these public settings and celebrate our community. That's why when we can do it, we should do it extra hard. And frankly, I'm gonna be OK if it bleeds into July a little bit." 
If it feels like Jasmin Savoy Brown is everywhere lately, it's because she is. Not only does she co-lead one of TV's buzziest series, Showtime's "Yellowjackets," she also returned to play the wisecracking slasher superfan in one of the biggest horror franchises ever in "Scream VI." Still, success didn't come without her fighting for what she deserves.
POWER OF PLAYING "I'm a queer person, so I know what it's like to identify with a character and a show and how rare it's been historically and how good it feels. So to get to be on the other side of that and to be giving my community a gift — albeit a dark and twisted gift — is really fun and I don't take it for granted."
LEARNING TO SELF-ADVOCATE "Something that's becoming ever more important to me is just being paid well. It's no secret that Black women — women in general, Black people in general — are not paid very well, and I want that to change. So I'm really curious to see what the paycheck is now before I sign up for a project, because I think it's time I start getting what I'm worth. Now that I have the platform that I have and I believe I'm proving myself as an actor, I just don't have time for it anymore. I'm not interested in making a fifth of what a white man is making."
STAY MARCHING "This year, I'm marching for queer joy. Our joy is being threatened right now, especially the joy of our trans youth. It's just, I don't even have a word for how upsetting all of these attacks are. And our joy is worth everything."
The sky's the limit for Devery Jacobs. The Critics Choice Award-nominated star of "Reservation Dogs" didn't just bring new complexities to her Elora Danan in Season 2 of the beloved FX series. She also co-leads Disney+'s indigenous-centered Marvel miniseries, "Echo," out in November.
QUEERNESS BLEEDS THROUGH "There's a reason why so many queer audiences have really connected with 'Reservation Dogs,' even though there aren't any outright conversations about identity or queerness at all in the series. I think the fact that we have queer creators behind the lens as well as in front is something that lends to that feeling of queerness in so many of the characters. Like, obviously I'm queer. The actor Elva Guerra, who plays Jackie, is nonbinary and two-spirit. And behind the scenes, we have writers like Tommy Pico, we have directors like Sydney Freeland — that's where we really feel the queerness bleed through."
POWER OF TRANSPARENCY "Especially when it comes to Native queer folks, our communities are plagued by suicide. We have some of the highest statistics of any queer youth of color for suicide. And so for me, specifically for queer youth, I felt it was important to be forthcoming about my journey and about who I am, even as I was figuring it out."
RECLAIMING "QUEER" "In terms of the connotation historically, [my identity] feels like a reclamation of that word. It feels like an ownership and a defiance, which in itself feels inherently queer. Being Mohawk and queer feels like there is a defiance embedded in my DNA."
Starring alongside Mayim Bialik for three seasons on the Fox sitcom "Call Me Kat," Cheyenne Jackson continues to prove that he can do it all. The lifelong theater performer has had memorable arcs on major series like "30 Rock," "Watchmen" and "American Horror Story" — all while being one of the most prominent out actors in Hollywood.
FINDING HIS LIFE-CHANGER "I found theater when I was 15, by [a teacher named] Mr. Caldwell, who saw something in me and encouraged me to sing and perform. I did plays in school, then I auditioned for community theater and I got my first professional job and I first met gay people and Black and brown people, people of all shapes and sizes. My whole world opened up. I just thought, there's a whole world out there that I didn't know. I knew then that theater was my tribe and that was going to be the way that I could express myself."
MENTORSHIP WITH RUPAUL CHARLES "I love my mentors. It's so important to have older people in the business and the industry that you can look up to. My two mentors, not to name drop, are Jamie Lee Curtis and RuPaul. They guide me, and I have started to guide younger people. I think it's so important."
THINKING "I MADE IT" "I used to think that 'making it' was a real thing. First it was Broadway, then it was 'American Horror Story.' I was at the Golden Globes, and I was at this table with all the cool kids. All my life I've been trying to make it to the cool table, and I was sitting with Lady Gaga and Angela Bassett and all these other stars. And at our table, everyone was looking at someone else's table, looking at Angelina Jolie's table and Jennifer Lawrence's table, and I had this aha moment: There is no 'making it' because everyone else is looking at someone else's table. It really freed me." 
For Nicco Annan, starring as strip club proprietor Uncle Clifford on Starz's "P-Valley" is more than just a job, it's a vehicle for education and understanding. His trailblazing performance challenges stereotypes and sheds light on the complexities of gender identity.
CAN'T PIN CLIFFORD DOWN "Uncle Clifford is a person you will never be able to define. You can literally fly and be anything you want without restriction. This character is connected to lineage and heritage. To be able to play a character that is conscious of ancestry, I think that is a thread that is woven when you think about the moniker 'Uncle.'"
BREAKING BOUNDARIES "Someone said to me once, 'I used to beat up on people like you,' referring to other Uncle Cliffords. He said, 'I never thought of their family. I see Uncle Clifford, and it never dawned on me that she has a family like the people that I've shot at.' It showed me the charge I have playing this role, and it told me how much of a difference it makes in educating, even if it's just one. Because if someone who is not even born today can look at this art and see themselves or they can see a community and have a different sense of empathy, then I did my job."
REMEMBERING WHERE HE CAME FROM "I keep my reel on YouTube because I'm not ashamed of the work that it took to get to where I am. I don't think that the material is anything to be ashamed of. I love that I can show that there is a process. It's about keeping it real and keeping it grounded because that is who I am as an artist." 
Welcome to Sherry Cola's moment. Starring on Freeform's "Good Trouble" for the last five seasons as the out-and-proud Alice Kwan, the standup comedian and actress has two buzzy films out later this year: Randall Park's Sundance Festival darling "Shortcomings" and Lionsgate's road trip comedy "Joy Ride" — the latter of which Cola promises will make her and costars Ashley Park, Stephanie Hsu and Sabrina Wu "your new favorite queer icons."
INDIVIDUALITY IS A SUPERPOWER "I've never been prouder to be an immigrant, queer, Chinese-American woman. And these are qualities that society never rooted for, but I'm fully embracing as superpowers. There's something so special and unique about a specific point of view. It is unmatched when you are whole-heartedly yourself and you enter a room. It really shows when you're comfortable in your own skin, and I think that has only helped me."
"GOOD TROUBLE" OPENED HER UP "I've identified as bisexual my entire life, but it was never a big, open conversation until I booked 'Good Trouble' and I was portraying a queer character. I had never had the conversation with my mom because I never, I guess, needed to — until I realized, 'Oh, I'm gonna play this character that could potentially be a role model.' I felt the need to spread my wings in my own life."
KEEPING IT REAL "I've become a better person because of 'Good Trouble.' With everything that we touch on, all of our characters are fighting for something in a very human way and in a very messy way, in a way that doesn't have all the answers. Whether it be equal pay, trans rights, BLM, unhoused communities — 'Good Trouble' has the conversations that people are afraid to have, and we did it before it was trendy. 'Good Trouble' is that bitch!"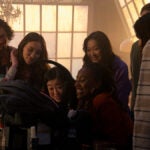 Read more from the Drama Series issue here.