Nominations poured in for all 75 Emmy Awards, and as expected, HBO's "Succession" led the pack with 27 nominations, including 14 for acting, the same number as last year (when it broke the record for the most in the categories of performance in one year). year only). "The Last of Us" came in second with 24 nominations, including Pedro Pascal's first, for Lead Actor in a Drama Series. "The White Lotus" (23) and "Ted Lasso" (21) rounded out the top four.
Netflix's "Beef" also made history as the first Asian-created limited series to earn a nomination. In a statement, "Beef" star and executive producer Ali Wong, who was nominated for Limited Series Lead Actress, said, "This is a true honor and something I never expected to happen. I wish my father was alive to experience this moment with me. Much love to Sonny (aka Lee Sung Jin) and the entire Beef family who gave their all to make such a special show."
Meanwhile, Paul Walter Hauser ended his reaction to being nominated for a supporting actor in a limited series for "Black Bird" with a smile: "Most of all, my beautiful, patient and forgiving wife Amy. No more serial killer roles, baby. Jury Duty Season 2? The bear season 3? Fingers crossed. Long live Ray Liotta."
Here are more responses from the 75th Emmy Award nominees.
Bob Odenkirk, lead actor in a drama series, "Better Call Saul"
"I am thrilled and honored that the role of Jimmy/Saul was the role of my life and all I could do was try to make the most of it every day. I have to say that I feel like this is also an appreciation of the entire cast and crew because everyone around me made me better in this role. Thanks to AMC and to the two masterminds Vince Gilligan and Peter Gould for writing a masterpiece for all of us. I am delighted that my friend Rhea Seehorn has also been nominated. It's a wonderful thing to share as we close the book on these rich characters and this wonderful effort we made together."
Elizabeth Debicki, supporting actress in a drama, "The Crown"
"Playing this role has been the greatest privilege of my acting life. It is an absolute honor to be nominated for this season of "The Crown" and I am so honored to be recognized among this group of incredible women and their amazingly excellent work. Thank you to the Television Academy for this meaningful recognition, I am very grateful."
Rachel Brosnahan, lead actress in a comedy series, "The Marvelous Mrs. Maisel"
"This is the sweetest icing on this wonderful 5-season ice cream. Thanks to the Academy for the love of our last season. Thanks to the people who made it possible. We are so grateful to be invited back to the party for one last hurray."
Brett Goldstein, supporting actor in a comedy series, "Ted Lasso"
"Ahhhhhhhh fxxx, yeah! This is incredible! Being nominated once is crazy, twice is crazy, but for this to be a triplet feels silly and proof that we're living in a simulation. He makes me feel incredibly lucky, especially when he's in the company of true acting legends. What an incredible list to be on, and it's wonderful to finally see my fit friend and extraordinarily talented Phil Dunster added to that list. Thanks as always to Jason, Bill, Brendan and Joe Kelly for inviting me on board. I am nothing without them and my fellow Greyhounds. What a journey this whole Lasso train has been, full of magic. Thanks to the Television Academy for making life a dream. I'm touched like fxxx."
Janelle James, Supporting Actress in a Comedy Series, "Abbott Elementary"
"I am very honored to be recognized along with the other talented nominees by the Television Academy. Living my dreams of making a living in the arts and sharing the gift of laughter is so much sweeter working alongside my fellow Abbott cast members and the amazing writers and crew of the show. Solidarity with WGA and SAG-AFTRA, of which I am a proud member".
Nathan Lane, Guest Actor in a Comedy Series, "Only Murders in the Building"
"I feel very grateful today and honored to be in such good company. As always, I am very grateful to John Hoffman and all the writers and producers, cast and crew of Only Murders in the Building, especially Steve, Selena, and most importantly for me, Marty and James Caverley, two of the best scene partners you can. ask for. Congratulations to each and every one."
Riley Keough, Lead Actress in Limited/Anthology Series, "Daisy Jones and the Six"
"This really is the most amazing surprise! I feel so lucky to have been a part of Daisy Jones & the Six and to work alongside my incredible castmates and the entire crew. I am grateful to the Academy for receiving this wonderful nomination and for being recognized along with other highly talented women in television. And I'm excited for my co-stars who were recognized as well! Thanks to Hello Sunshine, Amazon and thanks to the Academy."
Murray Bartlett, Supporting Actor in a Limited or Anthology Series, "Welcome to Chippendales"
"Thank you to the Television Academy for this double nomination! That?! I am absolutely over the moon!! It was an absolute joy to be a part of The Last of Us and Welcome to Chippendales, and I'm delighted that so many of my colleagues on both shows have also been recognized for their brilliant work. Thank you! Thank you!"
Storm Reid, guest actress in a drama series, "The Last of Us"
"I feel extremely blessed and truly honored to be nominated among these incredible actors. The experience of recording my episode of THE LAST OF US was nothing short of a dream. Thanks to Craig Mazin for believing in my talent and seeing me as Riley. I send all my congratulations to Bella, Pedro, the entire cast and crew, and all the nominees today."
Paul Walter Hauser, Supporting Actor in Limited/Anthology Series, "Black Bird"
"I am very honored to be nominated for an Emmy Award. Black Bird is the result of a tireless team, 3 visionary directors, the support of the storytelling giant that is AppleTV+, and Dennis Lehane's mastery of capturing life in all its forms. Taron, you are a brilliant actor, a kind and generous spirit, and I truly treasure our time on and off the screen. Thank you to the Television Academy, my teams at CAA, Artists First, The Lede Company, Dunham, Engelman, Petix, DDP, Sean M, and most of all my beautiful, patient and forgiving wife Amy. No more serial killer roles, baby. Jury Duty Season 2? The bear season 3? Fingers crossed. Long live Ray Liotta."
Craig Mazin, Writer for a Drama Series and Outstanding Drama Series, "The Last of Us"
"I am honored to be recognized by The Academy, but even more pleased to see how many of our brilliant cast and crew were nominated for their work on The Last of Us. With that being said, my priority right now is to see the day when all artists and craftsmen in the entertainment industry are treated fairly by the companies that turn our labor into their profits. Working within the rules of the syndicate, I intend to focus any promotional effort on supporting the nominated team from The Last of Us. Crew personnel in our industry are equally impacted by this necessary labor action; Showing them our enthusiasm and love is more important now than ever."
Taraji P. Henson, guest actress in a comedy series, "Abbott Elementary"
"As a fan of the show, working at Abbott Elementary was simple, pure joy… I had no idea that this type of recognition would even be a chance to make something so fun! Thanks to Quinta for inviting me to make such delicious paper. This is simply an absolute honor!"
al yankovic, Best Television Movie, Best Original Score and Lyrics, Best Writing for a Limited or Anthology Series or Movie, "Weird: The Al Yankovic Story"
"Never in my wildest dreams did I imagine I'd be able to say, 'Hey, Daniel Radcliffe just got an Emmy nomination for playing me in a movie!' But here we are. I am enormously excited and incredibly grateful. Our movie basically makes fun of all those award-baiting biopics, so it was ironic and mind-blowing to wake up this morning with eight nominations! Thank you, Television Academy!"
Eric Appel, Best Television Movie, Best Writing for a Limited or Anthology Series or Movie, "Weird: The Al Yankovic Story"
"Wow! I never in a million years thought a weird comedy like ours could be nominated for a whopping 8 Emmys (including Best Picture of All Time)! I'm incredibly proud of our entire cast and crew, who worked tirelessly to bring this project to life, and to the Roku channel for giving us the opportunity to tell the 100% true story of the best… well, maybe not technically the best, but possibly the most famous accordionist in an extremely specific musical genre."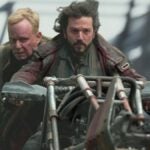 Elton John, Featured Variety Special (Live), "Farewell from Dodger Stadium"
"It is an honor for my Special to be recognized by the Academy. My final performance at Dodger Stadium was bittersweet and a night I'll never forget. My team at Rocket Entertainment, the talented Fulwell 73, and everyone at Disney+ went above and beyond to create a magical production, not just for me as I said goodbye to North America, but one that my fans around the world will enjoy for years to come. come."
Ariel Marx, Outstanding Musical Composition for a Limited Series or Anthology, "A Small Light"
"I am extremely moved and honored by this nomination, and send much gratitude to the Music Branch and TV Academy for this absolute honor. Writing the score for A Small Light was deeply personal, and I couldn't be more grateful to Tony Phalen, Joan Rater, Susanna Fogel and the entire team at Nat Geo/Disney for bringing me into this incredible limited series."
"We are absolutely delighted to receive this recognition for both the artistry of our film and the impact it has had. With this honor, we hope that the inspiring story of Neidinha and the Uru-eu-wau-wau can reach more people and continue to drive support for indigenous rights and the protection of the Amazon rainforest, an ecosystem on which we all depend for a stable planet."
Alex Pritz, Outstanding Merit in Documentary Filmmaking, Outstanding Directing for a Documentary/Nonfiction Program, and Outstanding Photography for a Nonfiction Program, "The Territory"
"We are absolutely delighted to receive this recognition both for the artistry of our film and for the impact it has had. With this honor, we hope that the inspiring story of Neidinha and the Uru-eu-wau-wau can reach more people and continue to drive support for indigenous rights and the protection of the Amazon rainforest, an ecosystem on which we all depend for a stable planet."