Three studios and the Academy of Motion Picture Arts and Sciences have fired or lost top diversity executives in the last 10 days, giving the impression that the industry is putting Diversity, Equity and Inclusion (DEI) on the back burner.
The drive for diversity that gained prominence with the 2020 Black Lives Matter movement seems to have run its course after just three years.
Were these roles just gibberish all along? As "A Black Lady Sketch Show" actress Yvette Nicole Brown tweeted: "Guess all those black boxes after the murder of George Floyd were for nothing," referencing The social media blackout of 2020 that was supposed to be in support of the BLM movement.
Disney's chief diversity officer and senior vice president, Latondra Newton, a six-year veteran, was the first of the four to leave. On June 20, the company said Newton would be leaving to pursue "other endeavors." As expected, her departure was celebrated by a faction of people who blamed her for the "awakened" casting of "The Little Mermaid" of the black actress and singer Halle Bailey.
His departure was followed by Wednesday's announcement that Vernā Myers, Netflix's director of inclusion strategy, will step down in September. She was the first person to serve in the position, which she held for five years. She will remain a consultant to Netflix while she focuses her attention on her consulting firm, The Vernā Myers Company.
Friday, the day after the Supreme Court struck down affirmative action in education, brought a double whammy: Warner Bros. Discovery fired Karen Horne, senior vice president of diversity, equity and inclusion, and Jeanell English, executive vice president of impact. and inclusion, of the Academy. Horne joined WBD in March 2020, while Academy CEO Bill Kramer created English's position in July 2022.
Writer of "S*W*A*T" Brian Margolis tweeted on Horne's departure, "Let me be clear: if your plan is to restructure your diversity initiatives by removing Karen Horne, your plan is to make everything exponentially worse. fuck [WBD CEO David Zaslav]."
At TheWrap's Powerful Women Summit in December, Hartbeat CEO Thai Randolph predicted DEI's roles were vulnerable, saying they were on the "chopping block" if leaders didn't make it a "business imperative." ".
Randolph said, "If you don't view building inclusive organizations as critical to the success, profitability, scaling of your business and your goals, those are the things that are at great risk."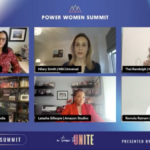 During the panel, Amazon Studios head of global DEI Latasha Gillespie said the industry may be experiencing what she called "diversity fatigue."
Added Randolph: "My hope is that we don't lose some of the ground that we gained because the pandemic really served as a catalyst and a mirror. But those things, as we know, can be easily undone."
Myers, Horne and English did not immediately respond to TheWrap's requests for comment. We couldn't get to Newton.