With four days left to vote in the nomination round for the 75th Primetime Emmy Awards, here are some numbers:
More than 900 shows have rated, ranging from a high of 163 drama series to a low of 12 scripted variety series. In the 20 acting categories, 2,466 different performances have entered the ballot. In the writing and directing categories, 541 different scripts and 745 different directed episodes are eligible.
And if you add it all up, you're going to get a lot of questions as we wait for voting to end, votes to be counted, and nominations announced on July 12.
Here are some of those questions. Spoiler alert: For the most part, these questions won't be answered for about three weeks.
How many "Succession" actors can be nominated as leads?
Over the years, it's been common for "Succession" to field multiple nominees in acting categories: Nicholas Braun, Kieran Culkin and Matthew McFadyen have all been nominated for Outstanding Supporting Actor in a Drama Series for the past two seasons, while last year's guest categories included four actors and three actresses from the HBO series.
Meanwhile, Outstanding Lead Actor in a Drama Series category has found Brian Cox and Jeremy Strong nominated in the past two seasons. But this year, with the death of Cox's character in the third episode, Culkin moved from the supporting category to the lead, where he will compete for a nomination alongside Strong and Cox (who opted to remain in the lead role despite that your character is physically missing). for most of the season).
All three are considered among the favorites to be nominated, but to have three leading actors nominated for the same show would be unprecedented. The shows have garnered two nominations in the category many times, with "Succession," "This Is Us," "Westworld" and "True Detective" combining to do so seven times in the past nine years. But never before have three nominations been made in a lead acting category in drama; the only time series actresses to have cornered a lead category in that grade is Outstanding Lead Actress in a Comedy Series, where "Golden Girls" did so four times between 1986 and 1989 and "Desperate Housewives" did so once in 2005. .
The Emmy rules were also changed this year, ending the ability for voters to mark their ballots for an unlimited number of contenders. Instead, they'll be restricted to six choices in categories that have six nominees, like this one. That might discourage them from giving half their votes to one show, though it's risky to underestimate an Emmy juggernaut like "Succession."
By the way, "Succession" also has one contender in the Lead Actress category, four in Supporting Actor, two in Supporting Actress, four in Guest Actor, and five in Guest Actress.
Who loses in comedy?
As we mentioned last week, comedy categories were hit particularly hard by the Emmy rules that tie the number of nominations in a category to the number of eligible entries in that category. Submissions are down across the board this year, but on comedy, the decline has often brought entries not just below a cutoff line and given them one fewer nominee than last year. The lead actor and actress categories had 68 and 76 entries, respectively, giving them five nominees when 81 entries in either category would have brought them both to six spots. Supporting Actor in a Comedy Series dropped to 239, meaning seven nominees, when two more submissions would have given the category eight nominations.
The question is, who are going to be the victims of those bad numbers? In comedy actress, the top eight appear to be (alphabetically) Christina Applegate, Rachel Brosnahan, Quinta Brunson, Bridget Everett, Elle Fanning, Selena Gomez, Natasha Lyonne and Jenna Ortega, but barring a tie, three of them will be out. In comedy actor, it's hard not to cast Donald Glover, Bill Hader, Steve Martin, Jason Segel, Martin Short, Jason Sudeikis, and Jeremy Allen White, but there's no room for two of them.
Will it hurt to go into too many episodes?
It's fairly common for a series to receive multiple nominations in the directing and writing categories, and very common for shows to submit multiple episodes in those runs. But there's a school of thought that says it's risky to split your vote: that "Only Murders in the Building," "Shrinking," and "Ted Lasso," for example, risk not being nominated in the comedy directing category. because they featured four, four, and five different episodes, respectively, while "Barry," "The Bear," "Jury Duty," and "Wednesday" gave voters a single episode to focus their votes on.
Let's just say it's probably less of a risk for "Ted Lasso," which finished with three nominations in this category two years ago, than it is for shows like "The Conners," "Rap Sh!t" and "The Sex Lives of College." Girls," all of which featured three different episodes.
In the comedy directing category, there were also multiple submissions of "Abbott Elementary" and "Somebody Somewhere" with three entries each, and "Grand Crew" with four. In drama direction, "The Mandalorian" topped with six performances, followed by "For All Mankind" with five and "Better Call Saul," "The Crown," "House of the Dragon," "Truth Be Told," "Will Trent" and "Yellowjackets" with four.
In the writing categories, fewer shows featured multiple episodes. On the drama side, "Better Call Saul" featured five, and "The Handmaid's Tale," "House of the Dragon," and "The Lord of the Rings: The Rings of Power" featured three each; in comedy, "The Conners" led with five, followed by "Abbott Elementary," "Act Your Age," "Atlanta," "The Great North" and "Poker Face" with three.
Will we have any potential EGOT after the nominations are announced?
There are three people alive right now who are one Emmy away from the Emmy-Grammy-Oscar-Tony grand slam known as EGOT: Elton John and the songwriting team of Benj Pasek and Justin Paul. All three are on the Emmy ballot.
John is executive producer of "Elton John Live: Farewell From Dodger Stadium," the live concert that aired on Disney+. The special has a good chance of advancing in the Outstanding Variety Special (Live) category, which only has 29 eligible shows, enough to give him a full list of five nominees and keep the odds pretty good in John's favor.
Pasek and Paul (who won Oscars for "La La Land," Tonys for "Dear Evan Hansen," and Grammys for both) are co-writers with Lizzy McAlpine of the title track "Dear Edward," one of 69 entries in the category. of outstanding main title theme. They are a longer opportunity.
Will we see a surge of sentimentality in the final season?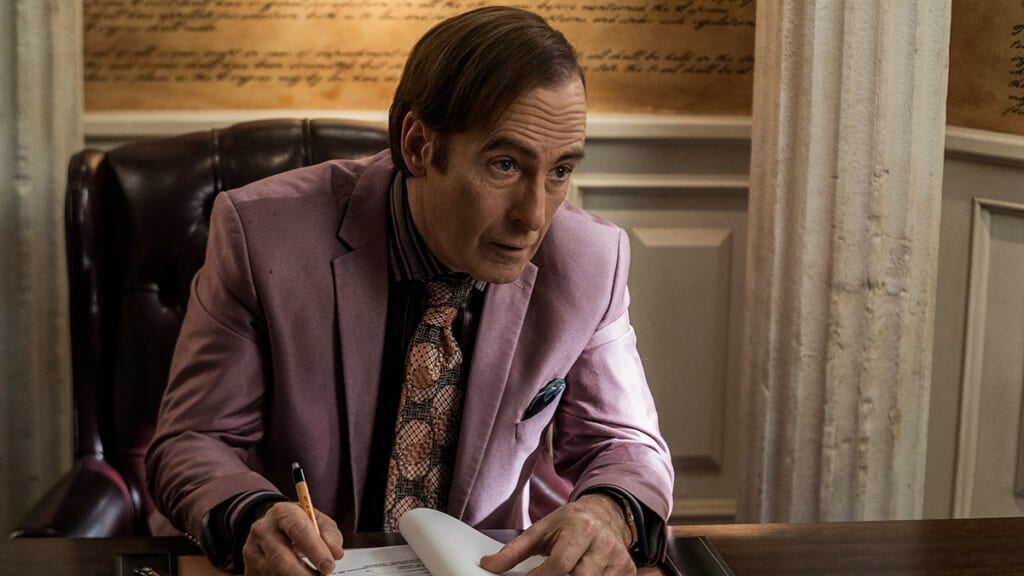 Remember the grand farewells Emmy voters gave to the final seasons of "Schitt's Creek" and "Fleabag," or to Jon Hamm when he finally won an Emmy for the seventh and final season of "Mad Men"? This year will provide plenty of opportunities for those kinds of farewells, because it brought the final seasons of many notable shows: "Ted Lasso" (we think), "Barry" and "Atlanta" in comedy, and "Succession," "Better Call Saul" and "Westworld" in drama, among others.
That means we could see Bob Odenkirk's last shot at an Emmy for "Better Call Saul" complicated by more than one "Succession" actor and maybe even Matthew Rhys for the now-canceled "Perry Mason" or Patrick Stewart for the final. season of "Star Trek: Picard." Or we could see the end of "Ted Lasso", the end of "Barry" and the end of "The Marvelous Mrs. Maisel" fighting over parting gifts in the comedy categories.
But are Emmy voters really that sentimental? In truth, it's much easier for a show to be recognized in its first season than its last, and the shows that do well in their final seasons are often the ones that have built momentum with previous victories. ("Fleabag" and "Schitt's Creek" were complete anomalies, where voters didn't discover them until late and then tried to make up for lost time.) That puts "Succession" and "Ted Lasso" in good stead for a nice send-off. tours, assuming newcomers like "The Last of Us" and "The Bear" don't get in the way. But he is not suggesting that voters should go with sentiment when casting their ballots.
Will the voiceover acting category be the key to the double and triple nominees?
There's little doubt that multi-hyphenate actors, writers, directors, and producers like Bill Hader and Quinta Brunson will end up as multiple nominees when the announcement is made on July 12. But looking at the Emmy ballots, there's another category that could provide an influx of double and triple dippers: Outstanding Character Voiceover Performance.
That's a category where you can find "Succession" nominees Sarah Snook and Kieran Culkin eligible for "Koala Man" and "Solar Opposites," respectively. Where "Beef" stars Ali Wong and Steven Yeun are also vying for their work in the animated film "Tuca & Bertie." While "The Marvelous Mrs. Maisel" star Alex Borstein moonlighted on "Family Guy," "Tiny Beautiful Things" star Kathryn Hahn paralleled "Central Park" and "The Last of All" standout Nick Offerman. Us" lent his voice to "The Great North."
Also in the running: Aubrey Plaza ("The White Lotus") for "Little Demon," Niecy Nash-Betts ("Dahmer – Monster") for "Agent Elvis," "Saturday Night Live" cast member Heidi Gardner and late-night actor host Jimmy Kimmel for "Crank Yankers" and "The Mandalorian" director Bryce Dallas Howard for an animated entry from the same galaxy cinematic, "Star Wars: Tales of the Jedi."
The nominees will no doubt include some actors receiving their only nomination (contenders include Hank Azaria, Julie Andrews, Mel Brooks, Tina Fey, Matthew McConaughey as Elvis and Priscilla Presley as herself), but this could also be a category that helps. some people to get an additional name.